|
It's a cold night.
After hand-washing my 'Mount Everest' clothes, whew!, I had painful and sore hands and fingers.
Well, my fault anyhow. Guess it's a lesson learned to manage my time wisely and to sort out daily activities.
The Internet , undeniably, is a simple and subtle temptation to consuming one's time!
I just hope and pray that I would have a lot of self-control and get a grip on myself!
The day is almost over and a new day awaits ahead. (Julie thinking of having this 'Thinkin' out Loud' a routine post!) hey, why nOt!
What are your Thinkin' out Loud's today?
Hey, if you want this badge of TOL, then click on the badge below, copy it as an image, paste it as a picture on your site and link it back to my blogsite www.blogizzzta.blogspot.com
And keep posted from time to time! see yah! Thanks!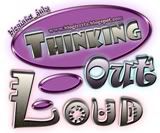 Powered by Linky Tools
Click here to enter your link and view the entire list of entered links...